How to Animate your Cats
An animated cat ..
This tutorial assumes that you have done my Cats tutorial ..
that you have created a cat with the Preset Shape tool and vectorgraphics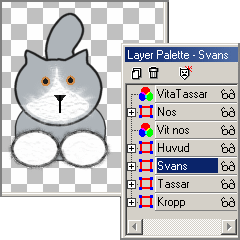 1.
Open your cat image in PsP,
duplicate and close the original .

After you have done the Cat tutorial you have a Layer Palette that looks about like this ....

maybe with different names,(I have two "effect" layers, "Vit nos" and "Vita tassar" that you may not have) from your cat you may see different layer names and your cat may look different..

The main thing is that you have "Svansen" (the tail) in its own layers.


2.
Select the "svans"layer (the tail)
Rightclick and choose Duplicate ..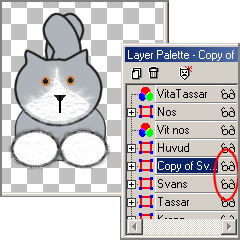 3.
With the "Copy of Svans" (tail) layer selected
(blue highlighted)
choose
Image - Mirror

Now you can see both tails, you will be clicking the "glasses" so that they have a red X on them...

4.
Check the "Copy of Svans" (Copy of tail) layer,
so it has the red X on the glasses

5.
Change layer, which one doesn't matter, just don't select one of the tail-layers....

6.
Choose
Layers - Merge - Merge Visible

7.
Save your image, choose
File - Save as - cat1.psp,
click OK.

8.
Choose
Edit - Undo Merge Layers

9.
Click on the glasses of the "Copy of Svans" (copy of tail) layer, so the red cross disappears. Then click on the "Svans" (tail) layer so the red X appears on the glasses, ...
Repeat step 6, 7 and 8, Save your image as cat2.psp.





Open Animation Shop ..
Choose File Run Animation Shop, and for PsP 7, File - Jasc Software Products,

Animation Shop, has a lot of tools, the same as in PSP ..
and you use them the same way.




Click Animation Wizard - tool, The Animation wizard - "Animation guide" opens.
You also find it under File -Animation wizard.

This guide makes it easier to make your own animations.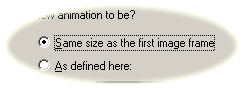 1.

Select this....

Press Next ..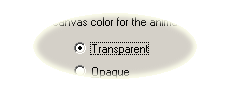 2.

Select Transparent,

Press Next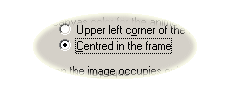 3.

select "Centred ... "

Press Next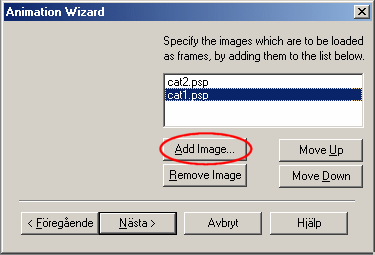 4.
then
select "Yes ... "
Press Next

5.
then ..

Press "Add Image
browse for your image,
cat1.psp och cat2.psp

Press Next

6.
Then , the last one
Press Finished



Press the Arrow tool,


to view your animation press the PsP6

PsP7

viewtool,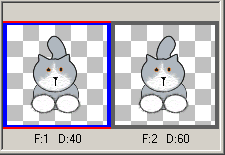 7.
Select the first image,
(make it blue highlighted)
right click and choose Frame Properties,
set the "Display time" to about 40,

8.
Select the second image
right click and choose Frame Properties,
set the "Disply time" to about 60,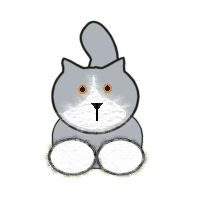 9.
Save your image File - Save As - name it, Save,

Then on next screen, just Press Next, three times and Finish

And now you have created your animation cat;)

I worked some more on my cat ..
added dropshadow
and used six images instead of two. I changed the Display times to,
10, 40, 20, 40, 75 and 40,


I hope you have enjoyed this Tutorial!